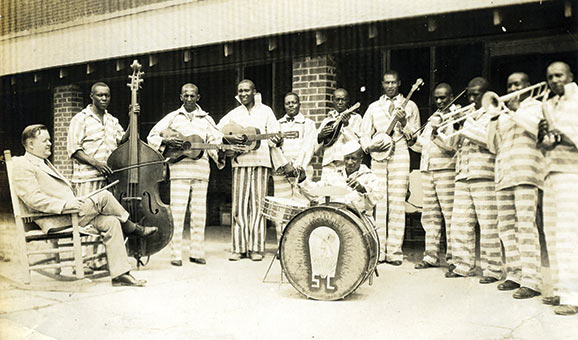 I dropped by the Blues Archive the other day and was stunned when I came across this amazing photograph–what sort of music did they play?!
The photo is part of a new collection,"Martha Alice Stewart: Time on Parchman Farm, 1930s," recently  acquired by the Department of Archives and Special Collections at the University of Mississippi. Stewart was Head Nurse at Parchman from 1930 until 1939, and the collection consists of nearly 200 black-and-white photographs.
The collection will be on display at the University Museum September 25, 2012–December 19, 2012. There'll be an opening reception on Tuesday, September 25, between 7:00 – 9:00 p.m. as part of the Oxford Art Crawl.
For more information you can contact Pamela Williamson, Curator of Visual Collections and Assistant Professor, at pmw@olemiss.edu or 662.915.5851
No Comments
No comments yet.
RSS feed for comments on this post.
Sorry, the comment form is closed at this time.
Powered by WordPress